While there are plenty of fantastic authors who have written about Africa, here are a few which you would do well to check out right away!
1/ Wilbur Smith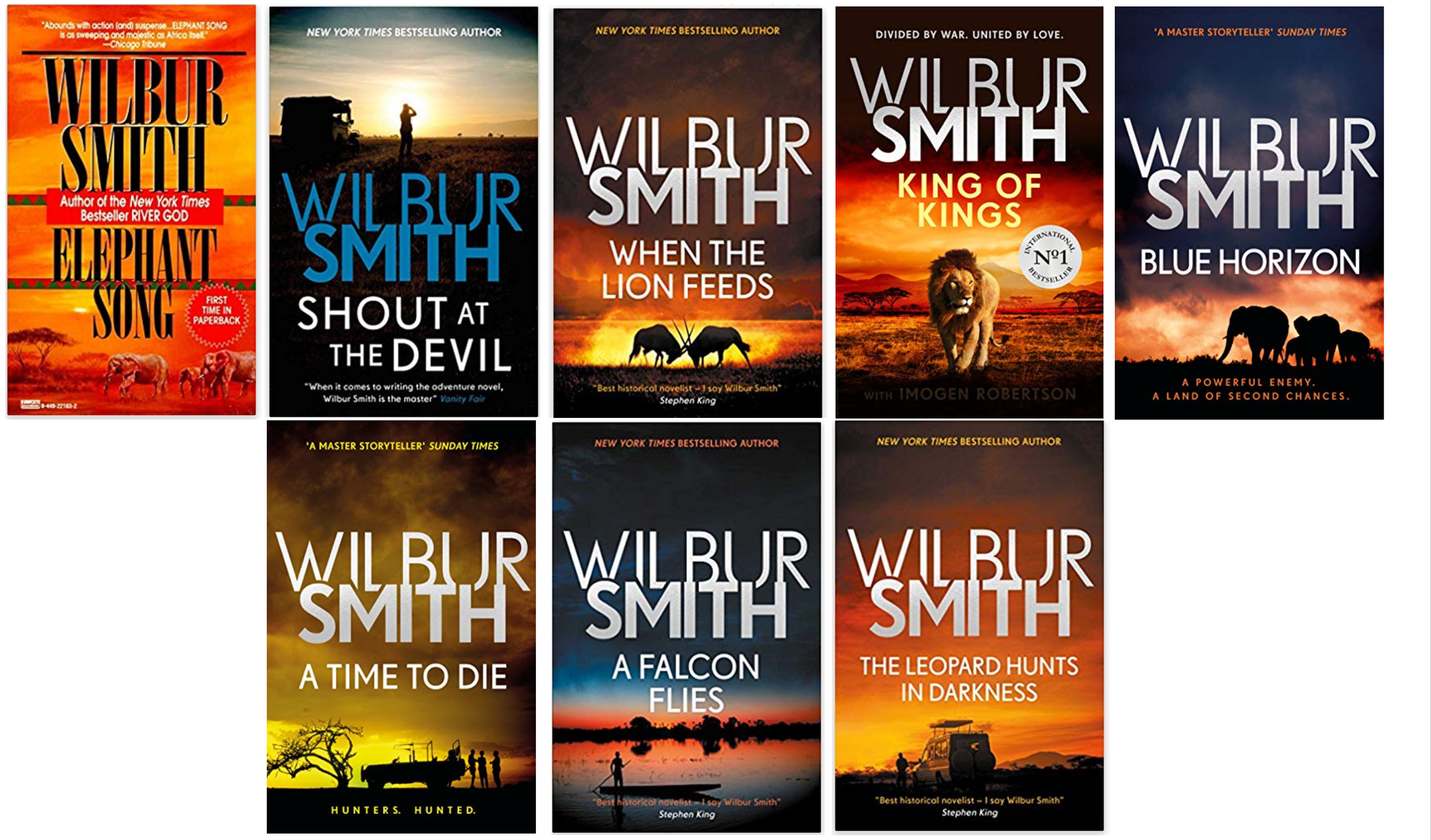 Bio: Wilbur Addison Smith was born in 1933 in Zambia. His internationally bestselling novels focus on the history of southern Africa, with an emphasis on the importance of sixteenth and seventeenth century events. His book Elephant song addresses the heartbreaking issue of the slaughter of elephants for ivory. Many of Smith's thirty novels have been turned into movies or mini-series, including Shout at the Devil, The Mercenaries (based on The Dark of the Sun), and The Seventh Scroll (based on both River God and The Seventh Scroll).
Why you should read his books: Smith is most certainly a personal favourite and a master story teller! His intricate plots, vivid descriptions of the African bush and of the wild animals, his refined characters and their fast-paced and exciting adventures, combining realism with thrilling suspense, as well as Smith's incredible writing style always makes me want more. I can't wait to finish his books to know how the story ends yet I never want it to end!
Find out more about his books: https://www.wilbursmithbooks.com
2/ Beverley Harper
Bio: Beverley Harper was born in New South Wales. She travelled to Africa for the first time in 1967 where she intended to spend only one year. However she fell in love with it and need up staying twenty years. The memories she made in Africa provided endless inspiration for her best-selling novels. Beverley Harper died of cancer in 2002 and her husband lovingly completed her final novel, Footprints of Lion, after her death. She now rests at peace in the Africa she loved, her ashes laying by the Boteti River in Botswana, below a lodge called "Leroo-la-Tau", which literally means footprints of lion.
Why you should read her books: Beverley's ability to develop her characters and make you feel as if you know them is uncanny. Her brilliant and powerful descriptions of the events occurring in her books are also what blows me away every time. The stories are moving, sometimes brutal but show a part of reality that few knows. I love her wiring style and the way I get carried away with the story. I have never been able to put one of her books down until I finished it!
Find out more about his books: https://www.fantasticfiction.com/h/beverley-harper/
3/ Tony Park

Bio: Australian writer Tony Park served 34 years in the Australian Army Reserve including six month in Afghanistan in 2002 as PR officer for the Australian ground forces. He has loved Africa every since he visited the continent in 1995 and travels there often. He has written 17 novels set in Africa and six non fiction biographies. Tony's latest novel, Ghosts of the Past, is was released worldwide in August 2019. Tony is a keen supporter of several charities concerned with wildlife and people in Africa.
Why you should read his books: His action-packed books are set against a background of safari park politics and wildlife protection. You are literally swept in right away as the story starts. His characters are charismatic and face powerful enemies in all walks of life. His narrative style and depictions of the sceneries and African wilderness give you a sense of actually being there.
Find out more about his books: https://www.tonypark.net
Editor's tip:
Not sure how to carry all your favourite books with you? Get a Kindle! While they will never replace paper and proper books, which we treasure so much, they are extremely handy, light and you can "pack" as many books as you want in them (I have over 400!). Most also offer the possibility to change the light of the screen (so you can read at night and it also makes a great flashlight when the power goes out!) or the size of the font to suit everyone.
---
Article written by Luangwa Wildlife Magazine editor-in-chief and wildlife journalist Mahina Mahina Allkemya Zulu. Contributions (articles and/or pictures) are welcome and can be sent to info@luangwawildlife.com. For advertising enquiries, email us at advertising@luangwawildlife.com.