Unlike other cats, lions are social animals that live in groups called prides. The size of the pride is usually determined by a the availability of water and the size and number of prey.
In an area where prey is small and sparse, lion prides tend to number on average 6 members. In bigger areas with bigger prey lion prides can have up to 20 individuals. In South Luangwa prides of more than 20 lions have been recorded.
Lions are very good hunters and usually hunt at night. Their hunting success rate is of an average of 30%. Lions' prey include antelopes, buffalos, zebras but also young elephants, hippos and even giraffe and warthogs. They will sometimes scavenge or steal kills from other predators, especially if they are in a weak condition.
After they bring down a kill, a lion pride will share their meal. If the kill is too small for the size of the pride male lions will be dominant and chase off the other members of the group.
Once it is done, the male will let the cubs join first, and finally the females, contrary to the popular belief that lions have a strict "eating hierarchy" with males then the females then the youngest ones eating in that order.
In general, (full-grown) carnivores will avoid and not prey on other (full-grown) carnivores. But predators may kill other predators' young ones and eat them. However it may happen that a group of hyenas will try and take down an old or injured lion or leopard.
It is widely thought that the females do most of the hunting. That is true to some extent, as they are usual the ones available when it is time to hunt while the male lion(s) will be roaming across their territory to protect their pride from invading males. However where the male(s) is or are around and the pride is on the hunt, the male(s) will join. And females know they have a better chance of bringing down big prey such as buffalos with the males around, because of their weight and strength.
Most of the time however males are on the move. A male lion's territory usually overlaps that of several groups of females so as to ensure maximum survival of its genes. As such, they will be visiting and mating with various females from various groups regularly.
"Nomad" male lions such as brothers or who come from the same original pride will often form coalitions of 2 to 4 and will invade the territory of other lions. If they take over they will usually kill the previous male's offsprings. Females can be vicious at that time as they are very protective of their young. If the cubs are old enough, they usually pose no threat and will be allowed to stay but will eventually be kicked out of the pride. Lions who come from different areas and do not know each other will rarely form a partnership.
Spending 16-20 hours of the day sleeping or resting, lions are well-known as the laziest of the big cats. They can be found lying on their backs with their feet up or sometimes even taking a snooze up in a tree. While lazing around, they are very affectionate towards one another, rubbing heads, grooming and licking each other.
Females will usually have more than one cub at a time and if more than one female is lactating they will all contribute to feeding all the cubs. This is called "cross-suckling" and is very useful when one female doesn't have enough milk or if the mother of some of the cubs goes hunting. They can be left behind with another female they can suckle from.
Females have a gestation period of about 3.5 months. This is a natural anti-predation control. Lion cubs are born blind and need three months to be able to join the rest of the pride. Their prey such as antelopes are usually born active, able to run within minutes of being born. This ensures a higher survival rate of the "prey" since the "predator" takes longer to develop.
Lion cubs have a 50% mortality rate due to disease, snake bites or because they are found and caught by other predators.
When the female lion brings her cubs to the pride for the first time other lions come and greet the new arrivals, rubbing their heads against the cubs and will start playing with them and teaching them how to hunt.
African lions are considered vulnerable of extinction by the IUCN Red List. They are threatened by loss and fragmentation of habitat.
Fun Fact: Seeing a lion yawn is a good indication of possible movement. They are usually getting ready to go on a hunting mission, or are going to move to a new place.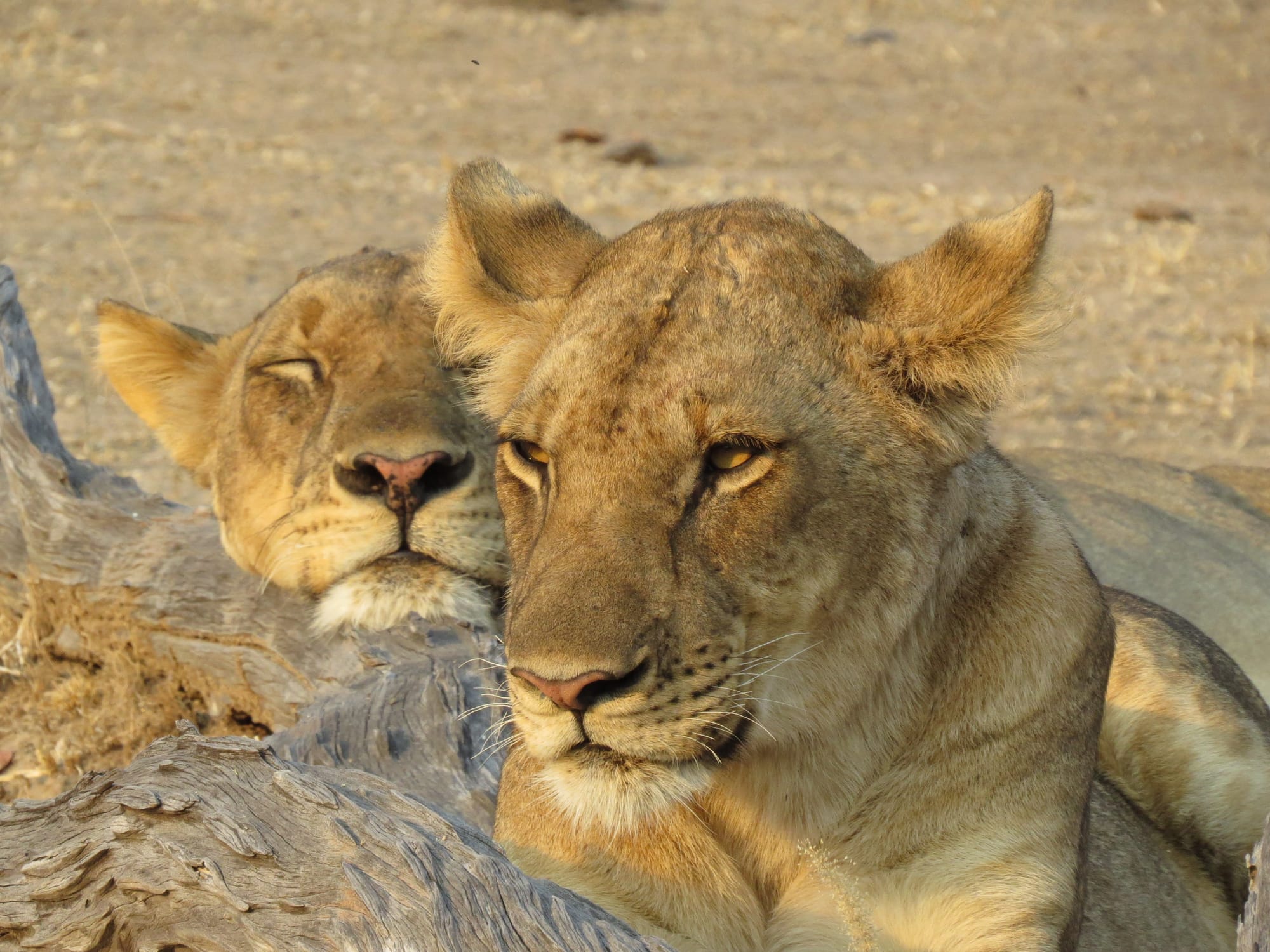 ---
All facts and pictures by Kelvin Zulu, Luangwa Wildlife Magazine photographer and expert safari guide. Article written by Luangwa Wildlife Magazine editor-in-chief and wildlife journalist Mahina Perrot. Contributions (articles and/or pictures) are welcome and can be sent to info@luangwawildlife.com. For advertising enquiries, email us at advertising@luangwawildlife.com.