Marula Lodge owners Mike and Jenny have's small charity called "Raise a smile" helps children get more access to books and inspires them to read more.
In rural Zambia education is very expensive for families who do not have a big income and in an area where there is a high level of unemployment. Most parents have more than one child and simply cannot afford to send them all to school.
Facilities are also very limited so Mike and Jenny have decided to bring the books to the kids by running reading programs in libraries in local schools.
"Once the kids learned to read, we realised they needed books, and a cool place to spend their free time, so we expanded to libraries. Before we knew it we had Grade Zero and Adult Literacy programmes!" they write on their website.
Because of the large numbers (of sometimes more than 100 students in a class) they have trained and employed Zambians to teach reading.
They are very grateful to anyone able to make a contribution towards their salaries. Guests staying at Marula Lodge also bring new books, whiteboard markers, pencils, crayons, balls jigsaw, puzzles and more!
They have an Amazon wishlist which you can check out (no need to buy from Amazon, but they show the books well).
As the owners of a safari lodge, Mike and Jenny are also intent on rewarding the children and giving back in any way they can! They have recently organised free game drives for the children, most of whom have never been inside the national park, who were able to see animals in the wild for the first time!
For more information about their wonderful initiative, check out https://www.marulalodgezambia.com/giving-back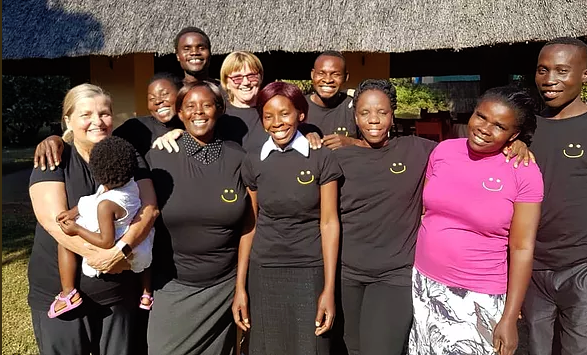 Picture: Marula Lodge