You only have to look at Geraldine's stunning pictures to get a feel of who she is as a person, an absolutely beautiful soul, inside and out, and an extremely talented photographer with a deep and infinite love and passion for Africa's unique canvas of colours, landscapes, untamed wilderness and the wild animals that roam free across the land of this wondrous continent.
Her incredible shots give you a new appreciation for nature and ignite in all of us a yearning to discover more about Africa. Her visit to Luangwa was certainly a highlight of her life and her delightful personality made as much of a lasting impact on the people she met on the way.
Geraldine, please tell us what work do you do?
I have a dream job as a personal travel agent specialised in African Safaris. I also run a wildlife conservation charity called "Wild&Free – Rehabilitation and Release" that makes grants to wildlife rehabilitation centres that successfully release rescued animals back to their natural environment.
What are your favourite hobbies?
Other than my job and the charity that never feel like work as they are my passion, I love wildlife photography, a hobby that started in Africa and has become a passion. In fact, I always carry my camera with me and it became an extension of my body! Africa is always my target destination to improve my photography but I also practice in London where I live or anywhere else I travel to. My other hobby is dancing, this was my first passion and when not in Africa, what makes me happy.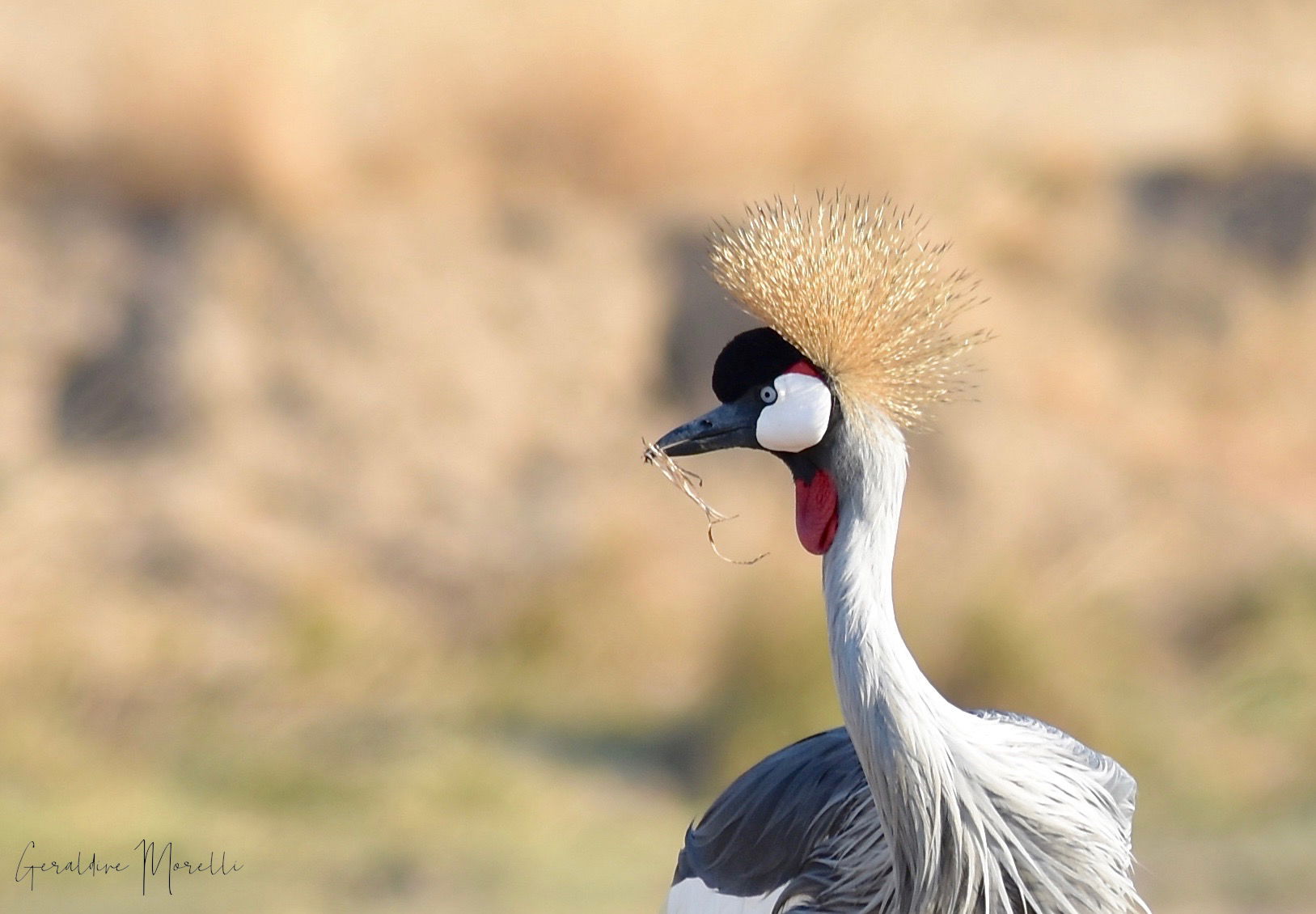 When did you first travel to Africa and where did you go?
I first travelled to Africa in 2003 and went to Kenya. It was a last minute beach holiday to Mombasa but I decided to go on a 2 day safaris in Tsavo National Park. It changed my life.
How did it make you feel?
Connected to nature. I was in complete awe of the landscape and wildlife, the skies were beautiful, the red dust created stunning contrasts with the dry savannah, and I knew that it was an incredible privilege to see wild animals in their natural environment. I felt very small and very much aware that I was in their home, that they tolerated us if we didn't disturb them. There was an immediate sense of respect and admiration for wildlife that I had never felt before. 2 days was too short and I knew I had to come back to see and experience more. I found it very hard to adjust to life back home and started a mission that has never stopped: go back to Africa as often as I can and always have the next trip planned before I returned.
When did you visit Zambia?
I visited Zambia in July 2018 and first stayed in South Luangwa National Park, then spent a few days in a less known park called Luambe National Park and came back to South Luangwa.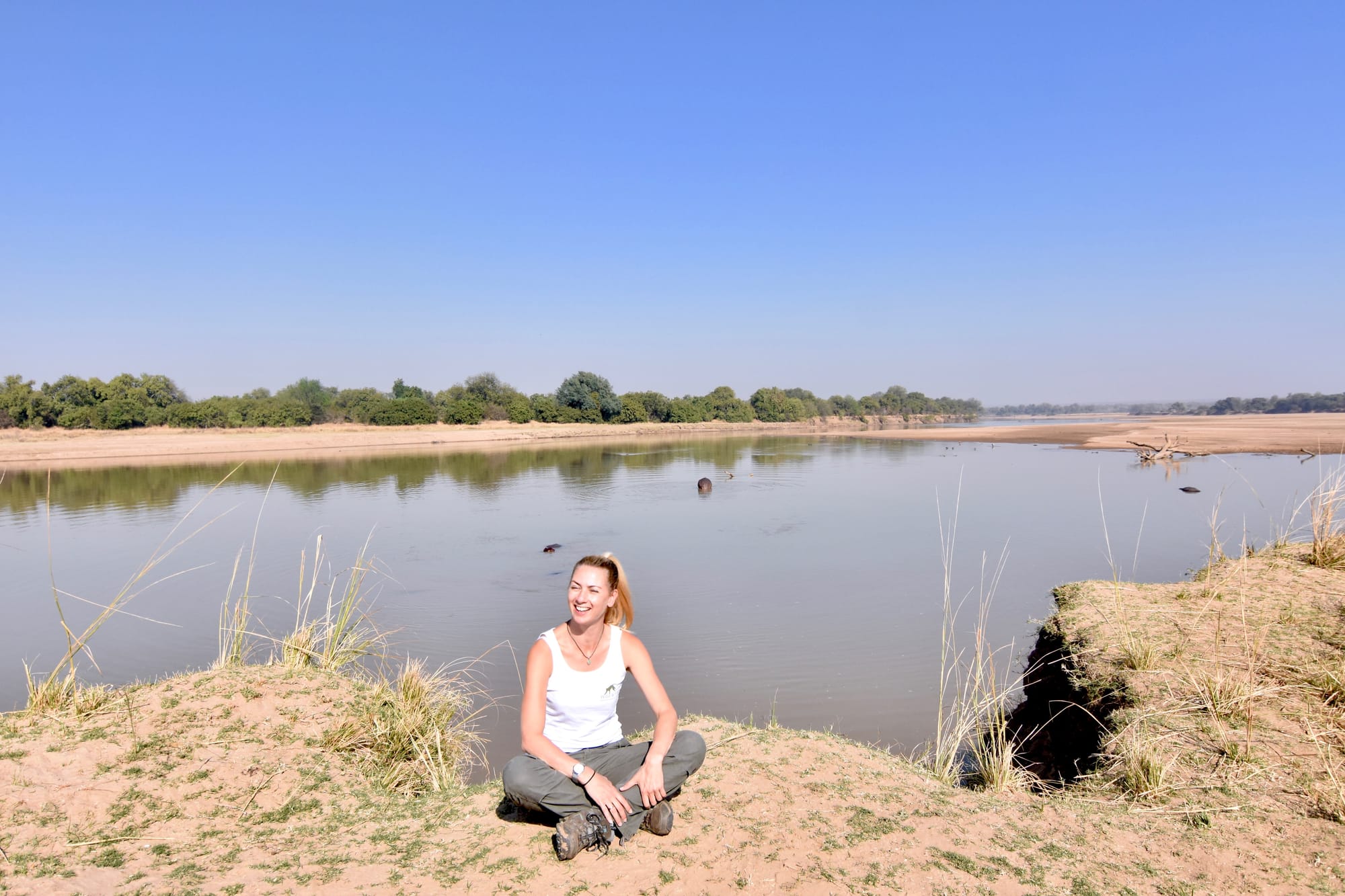 How much did you enjoy your trip there and why?
Zambia has stolen my heart. I had been to different African countries before and have visited more since, but South Luangwa is a very special safari destination and I will never forget the impression it had on me. I was up very early so as not to miss a minute of wildlife sighting and in bed late to hear the sounds of the night.
During the day, every hour was filled with adrenaline and pure enlightenment.
I was very lucky to visit different camps and it is hard to choose a favourite but those intimate and luxury camps built with local materials and delightful style, set in nature with the best views of the bush or rivers and no fence are my dream accommodations.
The people are some of the kindest I have met in Africa and I love that you give back to the community in most lodges you stay at. This is very important to me. The level of guiding is the best I have had, living up the reputation of Zambia having the best guides. Their knowledge seems endless and their passion is infectious.
I asked so many questions during my safaris and learnt more than I have before!
I also found the bush walks really amazing, which I knew Zambia was known for. This is an experience that gives a very different perspective on nature as you get to see and learn about all the fauna and flora that you cannot see or stop for during a game drive, giving you a better understanding of nature's perfection.
What, in your opinion, makes the Luangwa Valley different from other places or national parks in Africa?
One of the first surprises I had was the beauty of the park. I often refer to it as an African fairyland. The habitat for wildlife is simply stunning, the sunrises and sunsets are out of this world! Even without wildlife it would be a magical place, but when you see a leopard walking towards you on the sand leaving the river behind him with the sun slowly setting, it leaves you speechless. The wildlife sightings I had in general were incredible.
This was a second surprise to me: there were so many animals! I remember being surrounded by a big herd of buffalos, impalas, a bull giraffe, baboons foraging by the side of the road, elephants nearby and colourful birds chirping above my head thinking "this can't be real", only to spot the two resident lions and their pride at that time, Ginger and Garlic, a few minutes later. The leopard sightings were also impressive. I have never seen so many leopards on a safari during the day or night game drives. Hippos are everywhere at the river and I became very used to their sound, especially during the night. I really missed them when I came home.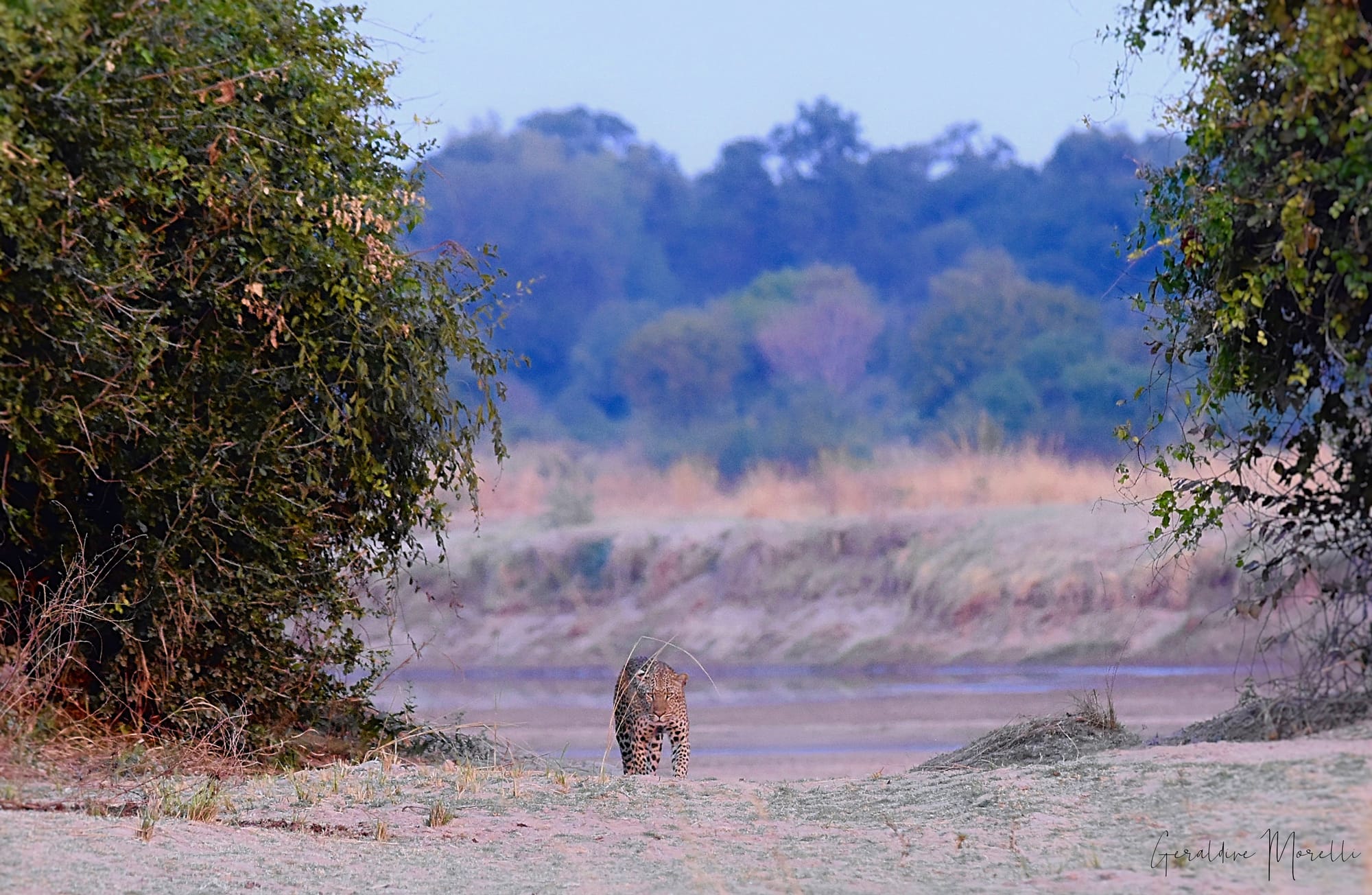 What animals did you see and what was your favourite sighting or thing that you enjoyed most about your stay there?
It would be easier to answer what animals I didn't see! There were a lot of baby animals, which of course, everyone loves to see. I never get tired of seeing elephants and was spoiled, witnessing some special interaction between individuals of the same herds and having very close encounters. As I said before I saw many leopards too which is such a treat and finally have some lovely photos of them!
I particularly loved the sighting of a leopard just before stopping for sundowners, totally unexpected, as the sky was starting to take on pinkish colours, it was a silent and beautiful moment. I also remember vividly when our guide spotted a leopard at night and then to our surprise, we saw a second one. They were a mating pair, how special!
The lion sightings were great too, despite the number of cars present at the same scene, which wasn't the case with other sightings.
We also saw a large number of bird species including owls, which I love, and I set myself the challenge to identify and know the fact names of 10 new birds as I didn't want to forget them! Birding is really wonderful in Luangwa.
Many others animals should be mentioned such as giraffes, monkeys and baboons, including a white baby, warthogs, impalas, bushbucks, zebras, buffalos, waterbucks, kudus, hippos, crocodiles, tree squirrels and more. I also loved hearing the hippos and hyenas at night. I find it so exciting that only a wall, sometimes a wooden fence, separates you from them!
Of course cheetahs aren't in this park but in Kafue, and you can't see rhinos. I thought it could be affecting the experience but I was completely wrong. What you see more than makes up for it.
I cherished our sundowners, such a special moment shared with other guests as you watch the sun set in the valley. They were all spectacular!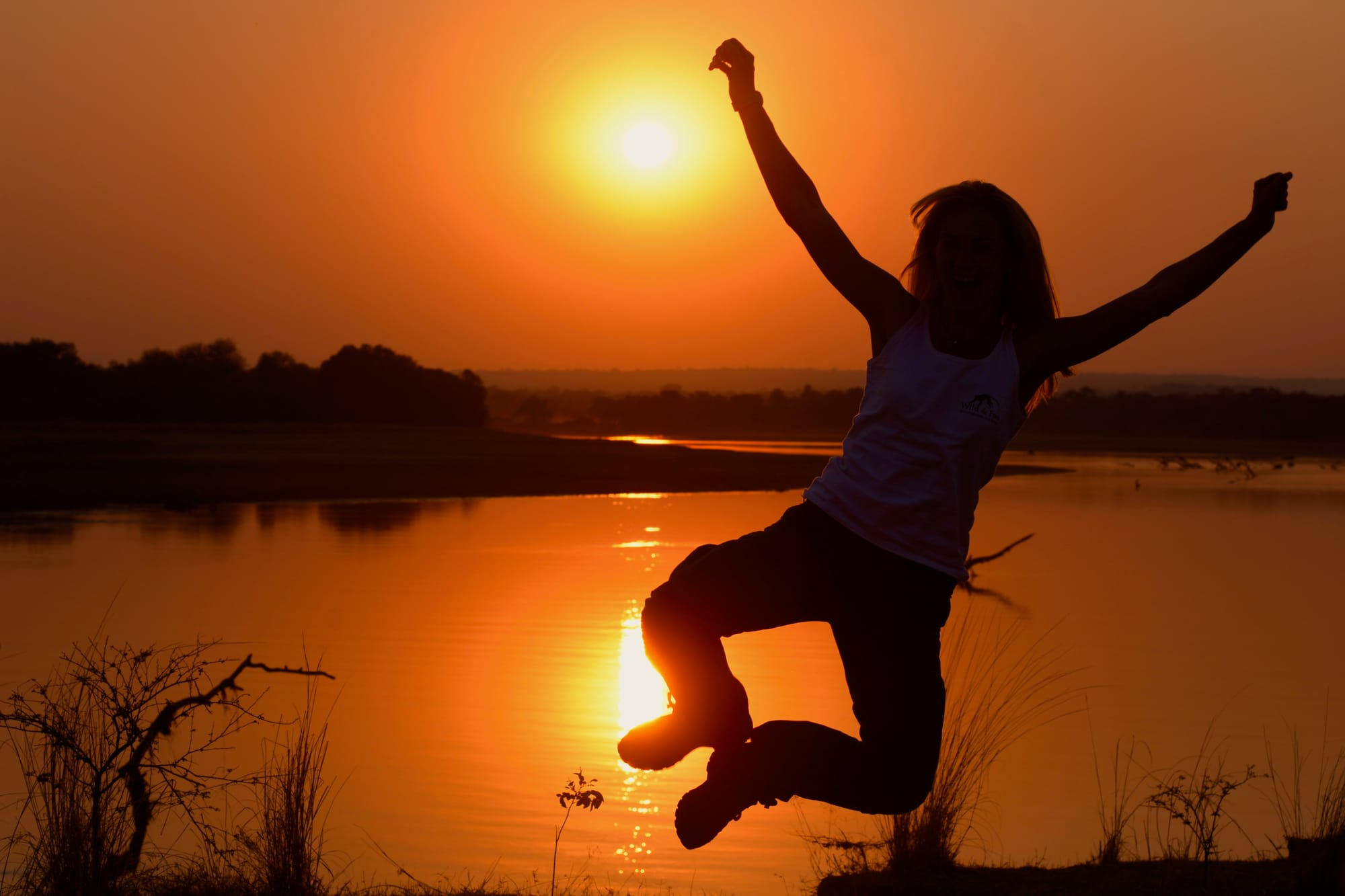 Would you come back?
I would be there right now if I could and I will come back for sure. I went back to Zambia this year (2019) and visited other beautiful areas, which were too far from the Luangwa valley unfortunately. I would like to come back with my children as I know that they will love it there. They have been on safaris a lot with me, but have never seen the beauty of the Luangwa Valley yet.
Would you recommend other travellers to visit the valley?
Definitely! I think South Luangwa is a must-see in Zambia!
Learn more about Geraldine Morelli: https://www.wildnfree.org, https://www.rareencounters.co.uk