Petra's warm, genuine smile struck me the first time I saw here. She has that unforgettable bright and bubbly energy about her that makes you want to see the sunny side of life at all times. Her passion for helping people and her incredibly generous nature has helped many women, men and children around Mfuwe Village over the last few years.
When she is not in Zambia, she and her husband are collecting donations and raising money as well as thinking about new and innovative ways to make a difference in the local people's lives.
Petra, please tell me where is home for you?
My partner and I come from Germany (Cologne), but our hearts are in Africa. If we could, we would settle down in Africa, but it is not easy to do, because we are sadly not so young and very involved with our whole family. But we are still young in our hearts. We know that little moments means more than big things and we try to enjoy what we have.
When did you first visit the Luangwa Valley and what did you do then?
Our first visit to Zambia was in May 2016. It was a present to my husband, to celebrate his 70th birthday. Birtjdays should always be extraordinary. And when I saw the open, spaces the landscapes I realised that this was where I wanted to be.
Maybe this is also the reason why we enjoyed the valley so much. We were travelling and met amazing people. When we arrived at mfuwe airport everything was well organised and as we headed to our first accomodation we saw so many people expecially children. From that moment our hearts opened up to them. All people were very friendly and we never forgot all these moments, the look in the eyes of the children, their happiness, their sadness, their lives.
How offen do you travel to Luangwa Valley?
We travel offen to Luangwa Valley, firstly because we want to visit our new friends, but also to check the boreholes that we´ve made with Gid and Adrian, the son of the famous Norman Carr, who started the walking safaris in the Luangwa Valley. So far I have been to South Luangwa 3 times. We visit the national park a lot, and I take a lot of pictures.
The biggest problem for us is is that because of our travel costs and because of the fact that we are on our own we have to limit our visits. However we have started our project, and we are determined to make it work. One hundred per cent of the money we fundraise back home go to the local community to help improve their lives.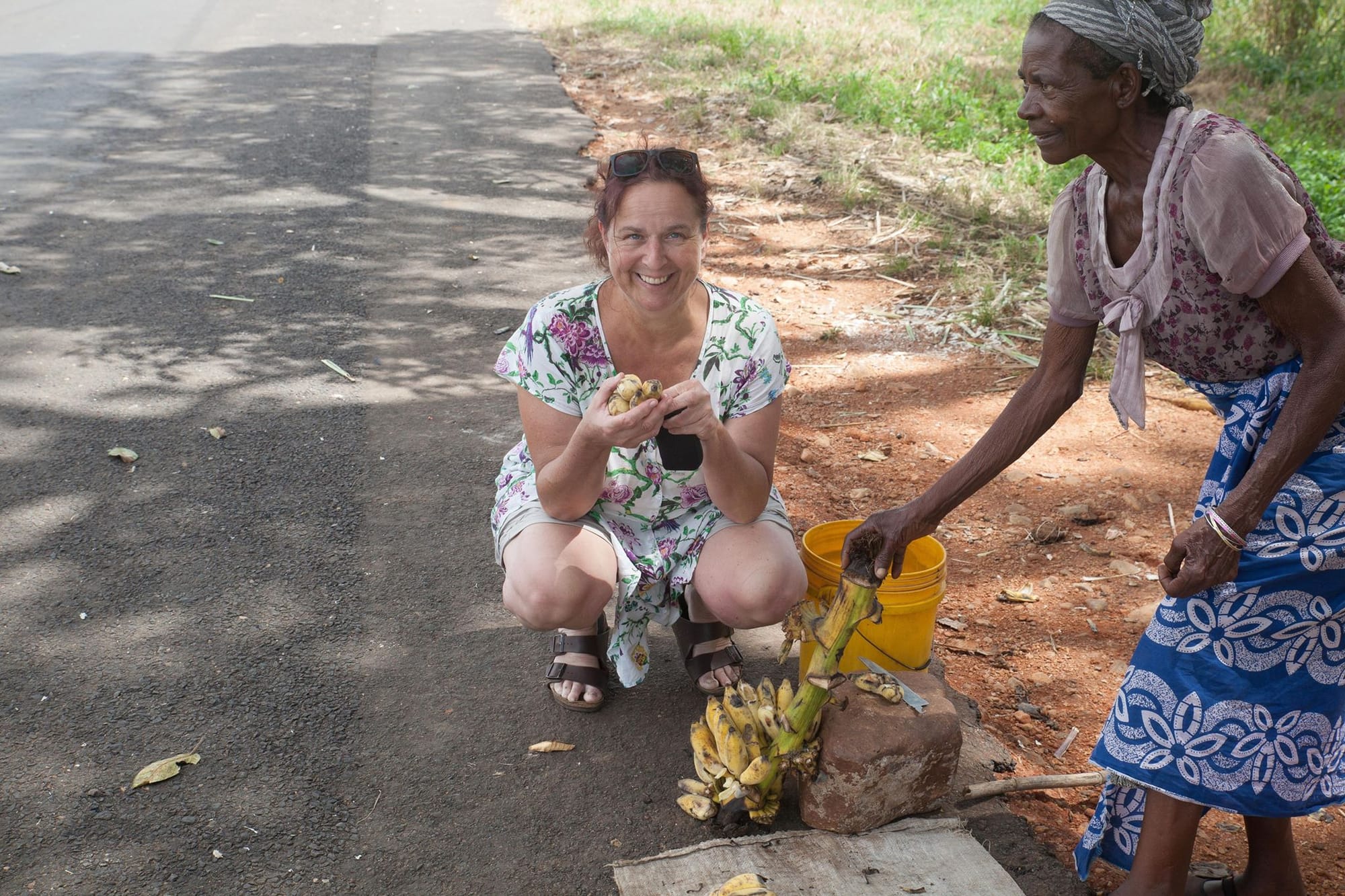 What was the best wildlife sighting you had during your stay in the Luangwa Valley?
We spent one week in the same accommodation and finally had the opportunity to learn more about the land and the people. That was the "true Africa".
We had the best guide we had ever met on our travels. At any moment we could feel his attachment to the animals and his pride in his country.
For the first time we saw pukus, as well as the Thornicroft Giraffe that is endemic in South Luangwa. Our Safari experience has never been so exclusive as it was there. The animals are not shy.
The most exciting thing was when the pride of lions from Ginger and Garlic used our car to rest under its shadow. It was a little bit scary for me and I couldn't even take pictures because of I had such a big lense!
What made you want to donate to the people of Zambia in the first place?
Never before have we had so much contact with the local population. Never before have we felt so much hospitality and warmth. Never before did a child's laughter touch me like it did in Zambia.
We realized during our trip that we wanted to support the population – especially the children who are very close to our hearts, but we also believed that the water supplies needed to be improved.
When we got home from Zambia we did a lot of research and inquiries. I started collecting materials and money donations in Germany.
Since then we have been doing the best we can by supporting local projects already established such as the beautiful Raise a smile Charity created by the owners of Marula Lodge, and helped Rachel McRobb (Conservation South Luangwa) and Matt Becker (Zambian Carnivore Program) whenever I could.
In our opinion the most important thing is to make sure children are getting an education. It is one of the foundation for a better future for everyone. We have been bringing a lot of school supplies and donations over the year. We now want to help families get help with the children's school fees, which most parents can't afford, to help them get supplies and uniforms, to build a school, to help disabled children and provide medical aid in rural areas.
What types of projects in particular are you supporting?
Our dreams are to get more involved with community projects, and the most important things for us are:
To be involved in education (we help out at Project Luangwa and Chipembele, Jenny's Raise a smile charity, Malimba school...)
To be involved to make a difference to the children in their homes
To be involved to give children a chance to see their souroundings and to teach them that the wildlife is very important for their future (Conservation South Luangwa, Zambian Carnivore Program)
To help the women have an easier life, to help the children eat properly, get an education. We also hope, if we drill more boreholes, they will have more time to do other things such as start their own businesses, go to school so that they can have a future, or simply to enjoy being a kid!
We want to make women strong, because we think that women are the future!
What is your long Term-goal or life dream?
Our long term goal is to see the local Zambian people happy, to look in their eyes and know that they have enough to eat, that they have access to clean water, that they are getting access to education, etc. Creating opportunities for children to be educated means they can make better decisions in life too.
We are a small private organisation and raise as much money as we can and help out however we can. My lifelong dream is to live in Zambia and to give all these people a real future, but for now it is only a dream. Yet every time we can get more donations I feel so happy, because we can help many people.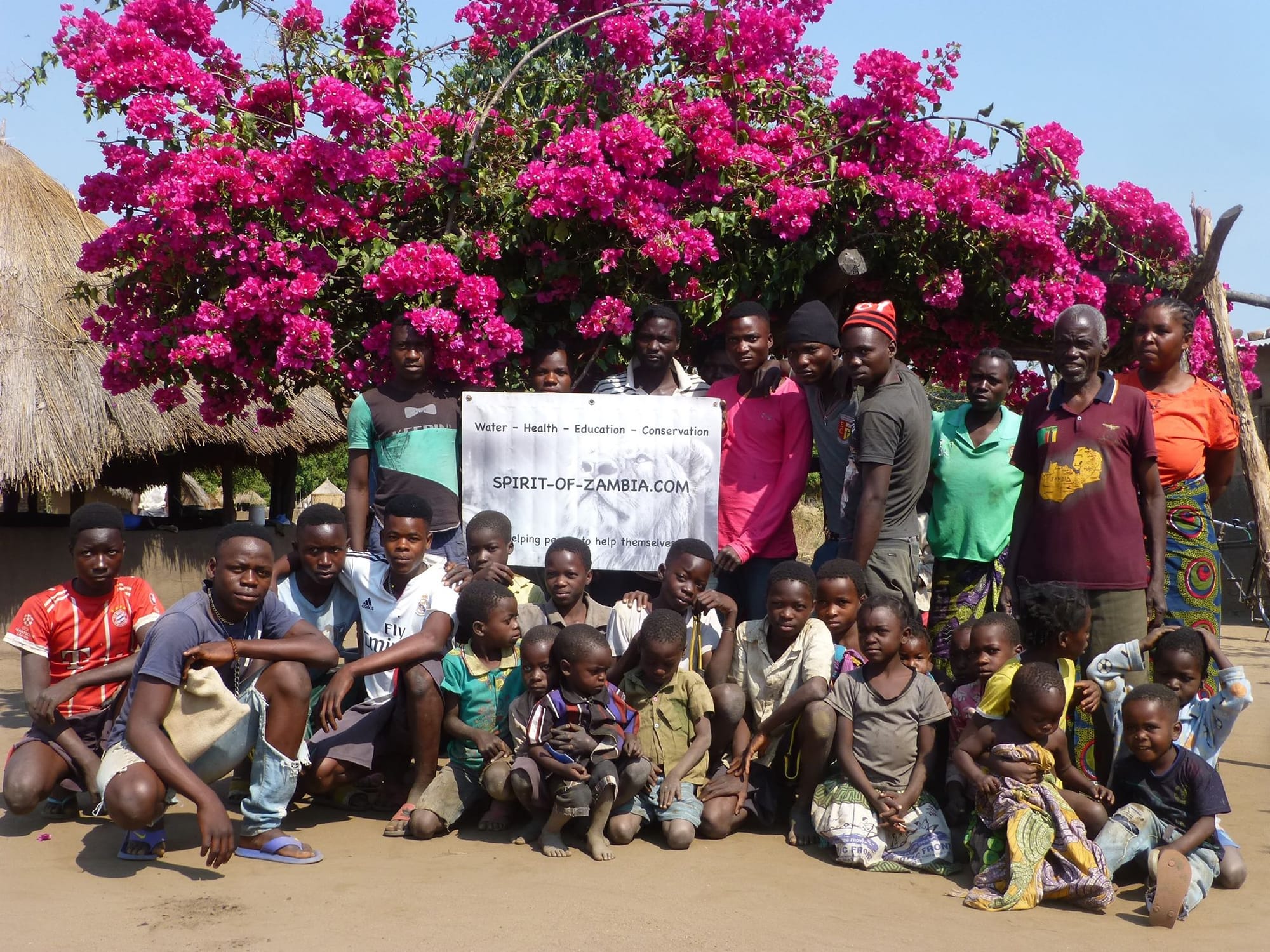 How could we improve things to help people and wildlife?
That is a good question. Some people ask me if it is possible to see the boreholes, and so I prepare visits to "their" borehole, cultural tours or wildlife safaris inside South Luangwa National Park. The more tourists see the ways of life of the people here, and the local wildlife, the more we can help the locals.
Our wishes for next year are to get even more involved in the local communities, to drill more boreholes to give more people access to clean water, to bring more school supplies, to help the health care by brining medicines and in general, to give more!
To help Petra and help the people of Zambia, you can visit their website Spirit-of-zambia.com