Watch the look of wonder in your child's eyes as he or she sees a giraffe, an elephant or a lion for the first time. What do they see? A purely magical world! Animals bigger than they could have ever imagined and which they might have only seen on television before! They feel alive, in a real world, they are in Africa! And the truth is, you probably feel the same. And these memories you create together in this extraordinary continent will stay with you all forever!
On safari, your deep instinct to "protect" your family rises
Yes, back home the kids may be climbing up a tree a little too high but you let them do it. Or if they wander too far and get lost in the supermarket you know that a cashier or someone will be able to find them.
However when you take your children to the real, unspoiled, African wilderness, there is real danger lurking around. Not that you are in actual danger at all, but you will find that some very deep instinct in you is awaken. You are all out of your comfort zones and you will feel more compelled to "instinctively" protect your children.
Now I am not telling you to smother them or not let them walk without holding your hand 24/7. What I am referring to here is more to the "feeling" that you will get. A feeling that will deepen your parents-children bond.
You learn more about them, and about yourself
A child's need or reaction might differ from what they normally do at home when going on this type of holiday. For example your daughter may refuse to wee-wee in the bush, or your boy wants to play with his soccer ball but this is the wild so he is not allowed.
You now have to explain to your child why there are no toilet facilities or why he can't play the ball in that wide open field. This takes communication between parents and children to an entirely new level.
You will also all understand each other's reactions to various things much better. Say you have never seen a monkey before and one jumps on your chair, you might actually scream while your child will be laughing. Conversely, your children could start crying because they had a fright, while for you it is rather funny. Back home, if a cat jumped on the table, you would all laugh together, but in a new environment, our reactions may be completely different.
You are raising the new environmental guardians of the planet
Most children have no idea about how much the planet will be needing them in the future. The new generation will likely face struggles that we could only have imagined. By taking them in some of the wildest places remaining on Earth you are showing them a world they might otherwise never know for themselves.
You are also educating them to love nature and the animals and help open their minds to the various cultures around the world. You may not know it yet but you may be awakening in your child a deep passion for animals, wildlife and the environment and some of the children today will become the next wildlife photographers, journalists, conservationists, teachers or even world leaders.
You have more family time
A huge bonus about going on safari is that there are less distraction and you spend most of your time entirely together! You will be going on game drive activities together, come back and enjoy some lunch together, then have a siesta or swim in the pool (and yes at least one of you will be on "play duty") before enjoying afternoon tea and another safari in the afternoon. These memories will stay in your child's mind forever and they will always remember them fondly.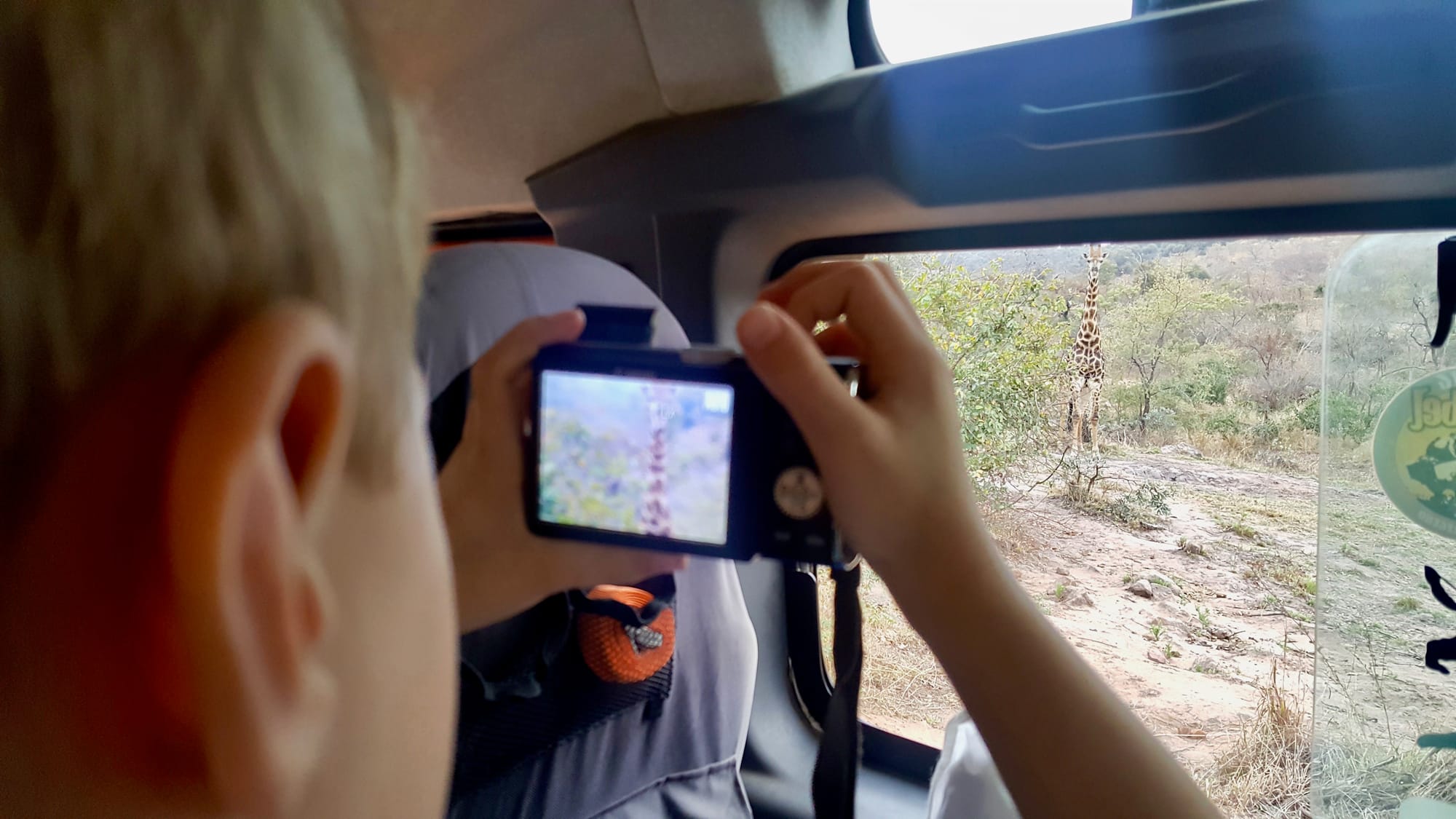 So taking your children on safari with you is definitely a fantastic idea!
Here are some tips which we found helped families understand a bit more what to expect when going on safari!
1/ Days are long for children in safari. They will usually be up from 5 in the morning to at least 8pm. You should encourage them to have a little siesta in the afternoon but you can also request the lodge where you are staying to have your family meal ready earlier than usual. Most lodges will accommodate. Some lodges may also offer baby-sitting options.
2/ Parents with very young children are advised to hire a private guide. While you may try and book at a lodge and be okay with being on a safari vehicle with other guests, it is possible that your lodge's policy won't allow this or that the other guests may refuse. It is nothing personal of course, but a family safari has different "vibes" from other types of safaris and so lodges may encourage you to hire a private guide. This comes at a little extra cost, but definitely worth it as a family because you will truly have time to "be" together.
3/ Take pictures and ask people to take pictures of you! Some guests come back with grow-up kids who say they wish they had pictures of themselves in that particular lodge when they came when they were younger. Ask your guide, receptionist etc to take pictures of you. They will happily oblige. You can do a picture book when you come home and why not even start a collection of your family travels in various books?
4/ Remember that malaria is present in most African countries. Make sure to spray your child, and ask your doctor about malaria pills before you leave. However some children really hate those pills and will simply refuse to take them (even mixed with jam, honey or even Nutella! - well, maybe A LOT of Nutella would work!), so find what works for your child. Also get everyone checked within 2 weeks of being back home. You are very likely to be completely safe, but it is always nice to be sure.
5/ Pack some extra stuff. Some children may get bored on safari. While there are animals around they will be excited but as soon as it quietens down a bit or the animals are asleep they will get fidgety. Buying them a small camera is a great way to inspire them to be curious and take pictures about the animals that they see. If there are no animals they can always take family pictures! For the youngest ones, colouring books are easy to carry and can keep children busy for a while. Gift shops in lodges may have some books or colouring books plush toys for you to buy but you should always get your own too.
6/ There is always plenty of food, but.... You may worry that you won't have enough food for your child and pack tons of snacks, nuts and bars. That is probably a good idea as most lodges won't have an A La Carte menu so if you know that your child needs to eat often, either bring something extra with you. However you can also make a special request at the reception upon arrival. Most lodges will be very happy to cater for your children's needs!
---
Article written by Luangwa Wildlife Magazine editor-in-chief and wildlife journalist Mahina Mahina Allkemya Zulu. Pictures taken by Geraldine Morelli, owner at Wild & Free Rehabilitation and Release. Contributions (articles and/or pictures) are welcome and can be sent to info@luangwawildlife.com. For advertising enquiries, email us at advertising@luangwawildlife.com.