For travellers staying in South Luangwa, a stop at Tribal Textiles is a must. They make and sell unique textiles which are directly inspired by the surrounding wildlife and nature. They are committed to developing beautiful products that benefit people as well as the environment.
You can discover their unique technique step by step by visiting their workshop on the way to or from Mfuwe airport. Most lodges will offer you that opportunity, but you can also express your interest to stop there when making a booking.
Guided Production Tours
Guided by one of their artisans, you can walk through the space to experience the Tribal Textiles production process and see their talented team of starchers, painters and sewers performing their skilled work. You can also browse the Mango Tree Artisan Market, where local artisans are at work: weavers, wood carvers, metal workers…

Then you can finish your visit with a tour of their Shop to purchase a truly unique souvenir to take that all-important piece of your Zambian experience home with you. Tribal Textile's showroom is set up around a leafy courtyard where you can relax and enjoy food and drinks at the Courtyard Cafe.

Their workshop is open Mondays to Fridays, from 7 am to 4.30 pm and Saturdays, from 7 am to 12.30 pm. The shop is open to the public, 7 days a week, from 7 am to 4.30 pm.
Art Safaris: take home a unique souvenir
Want to try a Safari with a difference? Come and enjoy Tribal Textiles' fun and exclusive Art Safari. Work side by side with their friendly team of artists amidst the buzz of our industrious outdoor workshop. Learn the unique art of hand painting and create your own masterpiece with a selection of rich, vibrant colours.

Groups and families welcome (Weekdays from April to November. Flexible start times - allow 2-3 hours). Please book ahead: production@tribaltextiles.co.zm.

Half day (using pre-drawn stencils): $30 per person I Full day (creating your own design): $50 per person. $2 from each Art Safari is donated to the Malimba School Fund.
HELPING THE LOCAL COMMUNITY
Over the years Tribal Textiles has made a conscious effort to give back to the community which surrounds us.
THE MANGO TREE ARTISAN MARKET
At the entrance to Tribal Textiles you'll find the Mango Tree Artisan Market – a place where skilled Mfuwe crafters are provided with an all-weather work space and a market place to sell their creations to visitors. All sale proceeds from the market place go directly to each artisan and their families.

RECYCLING INITIATIVES
In 2018, they built a recycling centre and trained local artisans to upcycle excess glass bottles into a beautiful range of products, providing a creative solution for an ongoing waste management problem in the South Luangwa Valley.

In 2019, they were planning further investment to enable us to upcycle aluminium cans and plastics and help the Luangwa Valley manage its waste whilst creating an income stream for local artisans.

RAISING FUNDS TO PROTECT WILDLIFE
25% of the proceeds of their "Carnivores" range goes to the Zambian Carnivore Program while Birdwatch Zambia is benefiting from their "Birds" range, which celebrates some of the most beautiful birds in South Luangwa National Park.

A donation from sales of their "Animal Block" kids' range, as well as 10% of profits from our new glass recycling programme, go to Chipembele Wildlife Education Trust to support their Conservation Education programs with local schools.

They also raise funds for Conservation South Luangwa through sales of their 'elephant friendly' chilli, lemongrass tea and turmeric grown by local farmers as part of their Human Wildlife Conflict Management Programme.
A new collaboration has seen them produce dog collars using Zambian leather and colourful Tribal fabrics with proceeds going to CSL's K9 Working Dogs for Conservation Programme which aims to cut down the problem of wildlife trafficking.
THE MALIMBA SCHOOL
Malimba Basic School is a local community school that is part funded by the government, with additional financial help provided by Tribal Textiles and a number of charities, including Make Me Smile and VSIP. The primary school is ranked 2nd in the district and educates over 500 pupils.

HANADA ORPHANAGE
Tribal Textiles provides Hanada orphanage with a weekly delivery of eggs, fresh fruits and vegetables, as well as a sack of maize each month, ensuring that the children have a healthy and balanced diet. From every online purchase a donation is made from the shipping costs to the weekly delivery.
For more information about their projects and to browse their store, check out their website at https://www.tribaltextiles.co.zm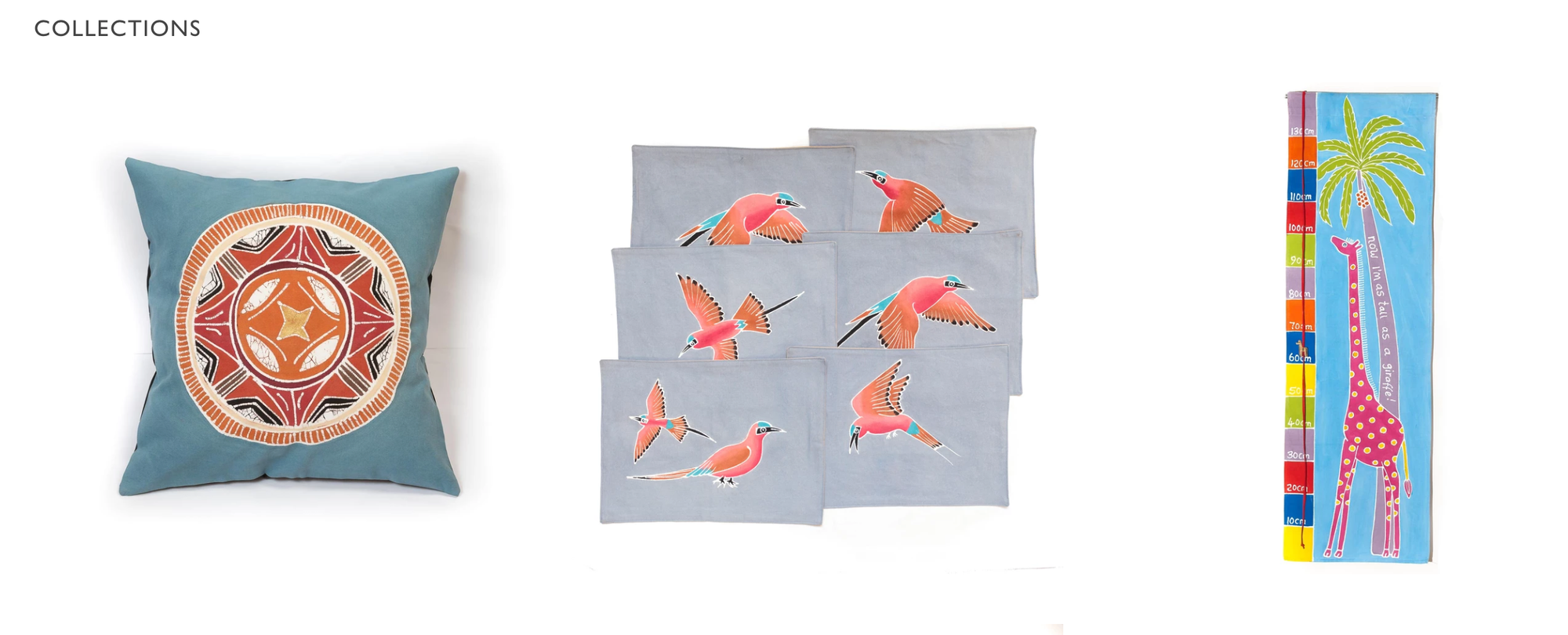 Picture: Tribal Textile