Depending on where you go and what experience you are looking for on a safari holiday you want to book a certain type of accommodation. Here we look at the various options South Luangwa offers.
Most lodges and camps are situated on the outskirts of the park or inside the South Luangwa National Park.
For the budget traveller, you will want to book a backpacker lodge that offers dormitories or cheaper accommodation such as tents or single rooms. They are usually simple but comfortable and either have en-suite or shared bathroom/toilet facilities.
Marula Lodge, a beautiful and peaceful lodge located by the river where elephants and antelopes usually wander around the garden. They have a pool, Wifi, a restaurant and a quiet bar. You can either book a chalet, a tent or a bed in the dormitory. Enquire now.
Croc Valley camp also has a gorgeous view of the Luangwa river, and a lively bar with music and television in the main area, as well as a huge swimming pool and a gym. Wifi is available for a fee. They have an a la carte menu and a full-board option. You can choose between a simple tent, an en-suite tent, an air-conditioned room or a family chalet. Enquire now.
Thornicroft Lodge is an intimate lodge also near the park, and also located by the river. Its private pool and tranquil surroundings are ideal for anyone wishing to book a private and relaxing holiday. You can book a fully inclusive chalet or a simple tent in their campsite. They also have Wifi and a restaurant/bar. Enquire now.
Wildlife Camp is divided into several parts, a main camp offering chalets and tents, a bush camp and a campsite. Each has their own appeal and beautiful surroundings. The camp has a small pool, Wifi, a bar and a restaurant. Enquire now.
Track and Trail Rivercamp offers chalets that have an outside private terrace right by the river and all of which can accommodate a family, as well as a campsite. The camp has a lovely restaurant, a gym and Wifi available. Enquire now.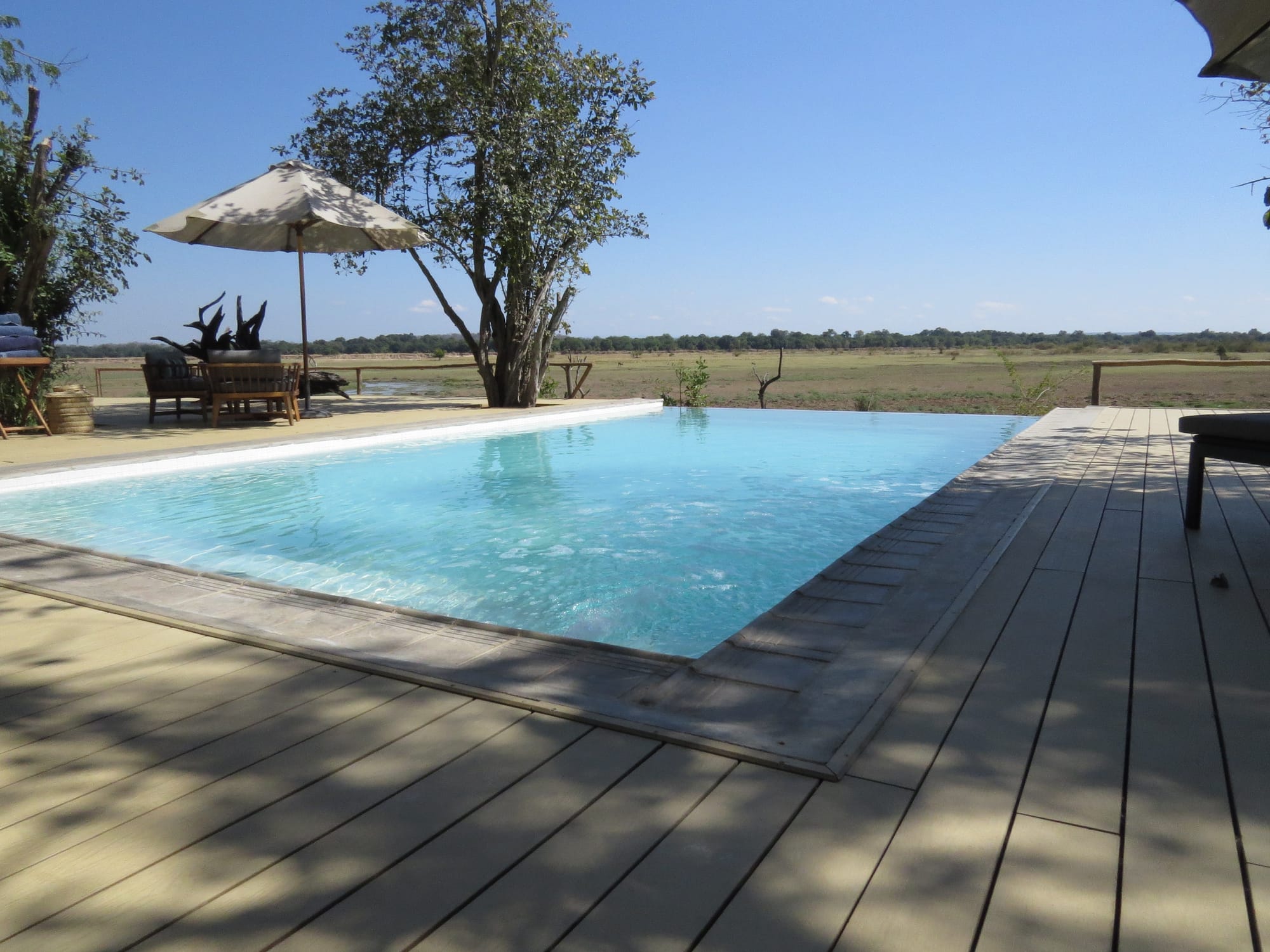 For the travellers on a slightly higher budget you may want to choose to stay at one of the following lodges:
Flatdog Camp offers four main types of accommodation including spacious tents by the river, big fully inclusive chalets which can sleep couples but also families, the Jackalberry house, a luxury treehouse, and a more expensive but incredibly gorgeous Crocodile Nest equipped with two bedrooms, your own private swimming pool, bar and view. Wifi is available in the restaurant/bar area. Enquire now.
Kafunta River Lodge is a warm, relaxing and very comfortable more "classic" safari lodge with stunning views, a natural hot pool, a swimming pool and a bar/restaurant. They offer chalets at their main lodge but you can also book one or both of their two bushcamps. Enquire now.
Robin Pope Safaris offers a wide range of ensuite chalets and accommodation options at their various lodge/camps. The most popular ones are Nkwali camp, Luangwa River Camp, Tena Tena and Nsefu. Prices vary according to what you choose. Enquire now.
High-end luxury lodges and remote "bushcamps" located in the park are also a fantastic option.
Mfuwe Lodge is located about 10 minutes from the entrance of the park. You can book one of their 18 chalets there and/or choose to also spend some nights in one of their six bushcamps. The lodge has free Wifi available in the main area, a restaurant and a bar as well as a gym, a swimming pool and a bush spa on site. Enquire now.
Kaingo Camp is a smaller, rustic yet very comfortable camp with en-suite chalets that all have an inside shower and private outside bath. They have a marvellous hide from which you can photograph animals at any time of the day. Enquire now.
Lion Camp is located in the more remote north of South Luangwa National Park and includes a main lodge built on the water's edge with a bar, restaurant and pool. Therein area is linked to 10 fully-equipped suites by elevated wooden walkways. The camp has recently been refurbished and added a viewing hide at water level offering close-up views of animals. Enquire now.
Simply note that:
- For lodges situated outside the park you will have to pay park entry fees when going on game drives, unless you have booked a full-board package in which they are included. Lodges inside the park have more expensive park fees which you may pay separately or when you confirm your booking.
- Most lodges will have Wifi in the main areas but usually not in the rooms. This is to enhance your experience of the bush.
- Most lodges cater for all types of diets (vegan, gluten-free, lactose-free, etc). Just make sure you mention your dietary requirements when booking with them, or let your travel agent know.
- You can choose whether you wish to go on a safari or wish to enjoy the lodge's amenities. Some lodges will ask you what you wish to do the night before. You will be on activities with other guests from your lodge. If you wish to book a private guide, most lodges will be able to offer you that option, unless they are fully booked. You can also check out local guides in the area as they usually provide excellent services at a much cheaper rate.
- None of the lodges have fences in Luangwa. You are IN the bush! Do not wander too far during the day or walk around at night.
- Never feed wild animals! While you may be tempted to share your apple with the monkey nearby, do not do it. Most lodges find it difficult enough to prevent cheeky animals from stealing food. In South Luangwa luckily monkeys and baboons are not so troublesome, but it is a rule that animals should be wild. By feeding an animal you expose yourself to danger and expose the animal to being shot by the local wildlife authority if it becomes a nuisance.
---
Article written by Luangwa Wildlife Magazine editor-in-chief and wildlife journalist Mahina Mahina Allkemya Zulu. Pictures taken by Kelvin Zulu, Luangwa Wildlife Magazine photographer and expert safari guide. Contributions (articles and/or pictures) are welcome and can be sent to info@luangwawildlife.com. For advertising enquiries, email us at advertising@luangwawildlife.com.