The first time I meet Edwin Maiten Kamisa, I am not sure what to expect. He has been released after spending five years in prison, having been convicted for poaching, and wants to talk to me. I am imagining a rugged-looking man with not a shred of humanity in him, but the man in front of me, extending his hand to shake mine, looks like a teacher.
He is dressed in a red shirt and blue trousers and has glasses on. He looks older than I thought and though he is tall, his back is hunched, as if he is carrying a great weight on his shoulders. I see no malice or violence in the man, just pure hopelessness.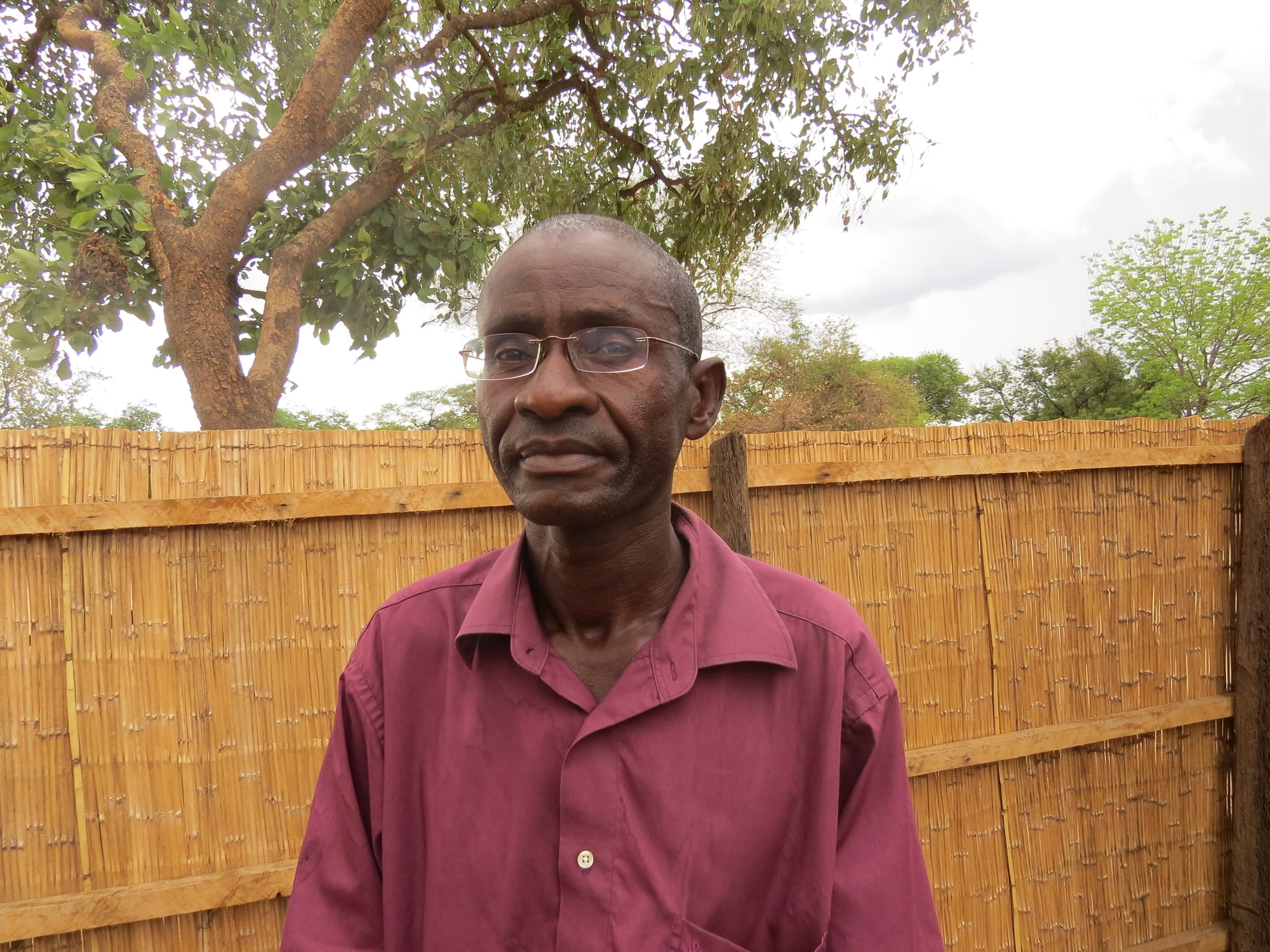 "Please help me," he says, utter despair etched all over his face. I offer him to take a sit. We chat for a while and my husband, Kelvin, a safari guide, is sitting beside me to translate from Nyanja to English if necessary. Edwin's English is good however, and he starts explaining why he came to see me.
"Please I need you to assist me. I was a poacher, but I was arrested and sentenced to five years of hard labour and everything I left behind is now no more," he pleads. He hands me a piece of paper with information about him, his family, and what has happened to him that he has written himself.
I then ask him to tell me his life story. Edwin grew up around Chitawa village and has never travelled anywhere. He is from a very poor family and has struggled to survive all his life. He and his wife lived in a tiny, one-room house with their six children with barely enough space to move around. They originally had ten children but two of them died, and two moved away, because they couldn't afford to provide for them as all parents should be able to.
"I have been poor since I was born," Edwin explains, his eyes downcast. "I tried to find work, I fought for work, but there is nothing."
He does not have enough money to feed the entire family and they often have to go without food for days at a time. He cannot send his children to school, and is devastated at the thought that he may never be able to offer his family a better life.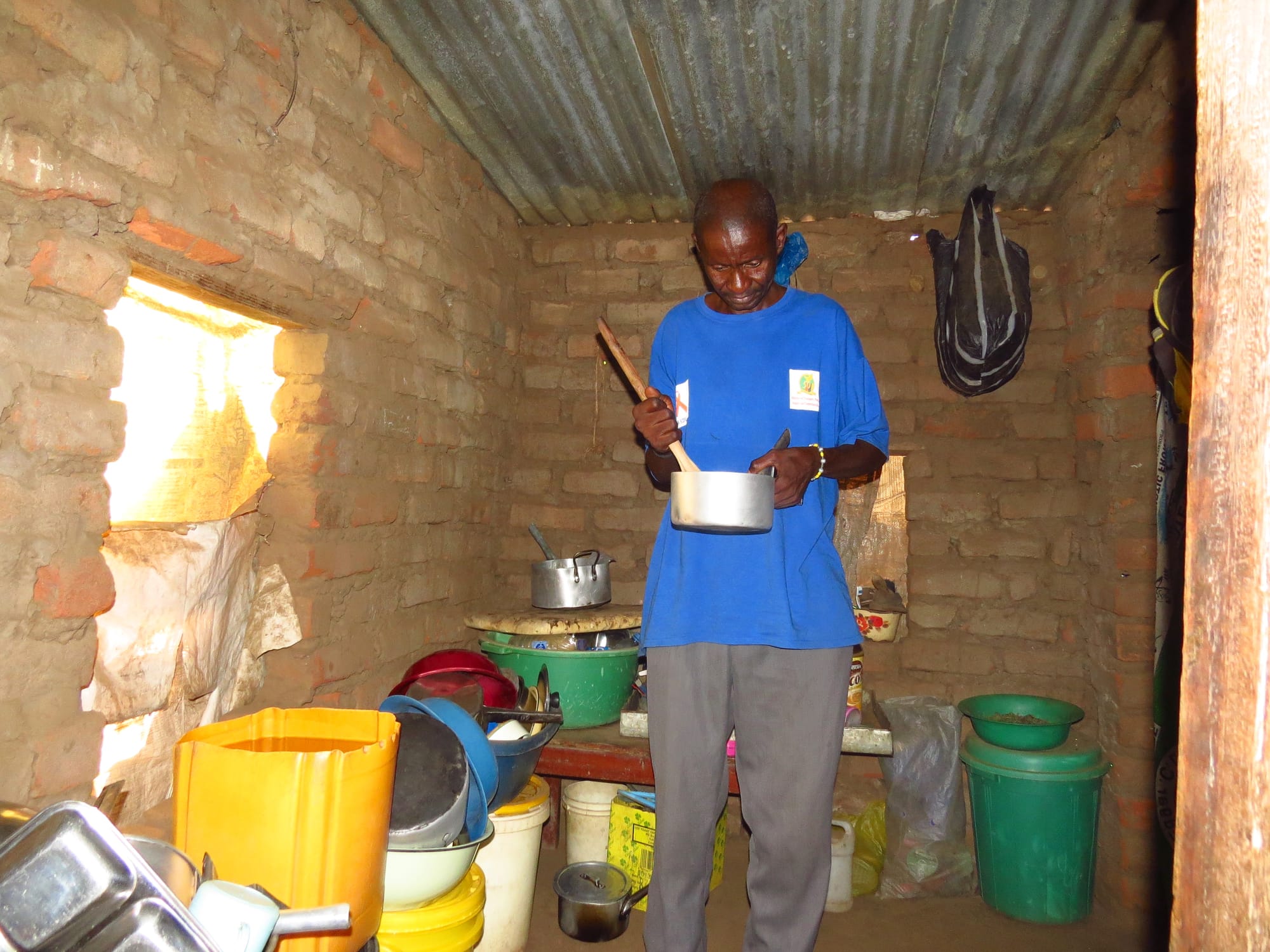 From early on, Edwin recalls, he had to turn to poaching. He would go out in the bush and kill small animals such as impalas, pukus, warthogs and would sell the meat to be able to buy things like soap or clothes, or exchange it for maize, Zambian people's staple food.
But in January 2014 he was caught by the local authorities in possession of bush meat and with a gun he had made himself, and was sentenced to five years of hard labour.
Then the nightmare began. "The living conditions were terrible," he flinches as he recalls his time in prison. "We had to work all day. The work was very hard and we got food only once a day and not enough water. At night there were 150 people in one cell. We had to sleep next to each other, head to head and toes to toes, all lined up on the floor. You can't turn around or move all night."
All that time, no one ever came to visit him because his family couldn't afford to travel all the way there. Edwin had no idea how his family was doing, and what would be left for him when he went home, if he ever did.
"I left my family suffering. And I didn't know if I would go back as many people died in prison," he continues. "My friends died, some were beaten, some ran away, or they got sick. I got tuberculosis when I was there. It was really bad."
In August 2018, Edwin was released. When he came home, his house had been completely destroyed by elephants and his family had moved to an even smaller house. They were overjoyed to see him, but since then, Edwin still hasn't managed to find work anywhere.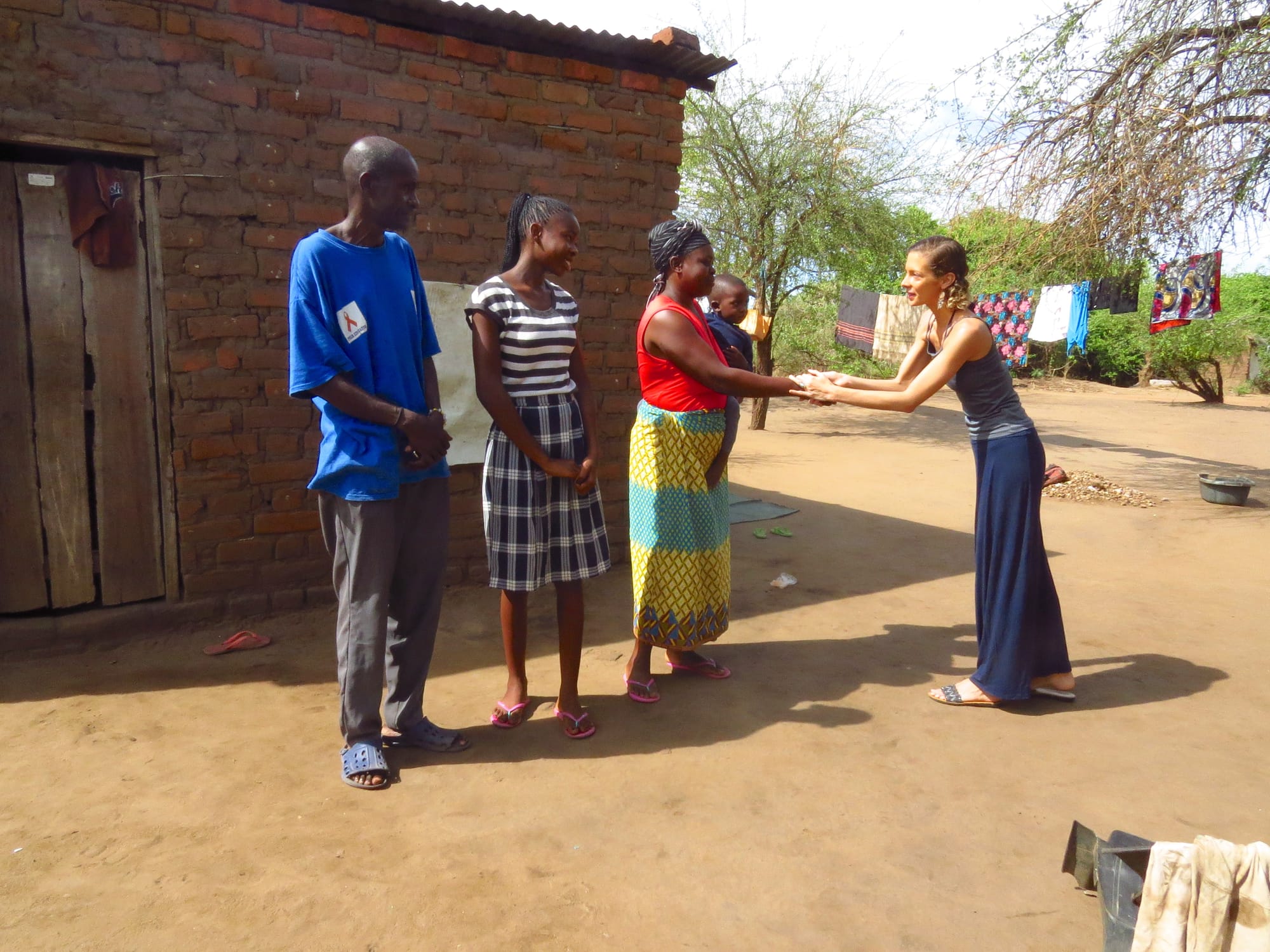 I visit Edwin at his house a few days later and I am socked by the family's living conditions. The house is barely two metres by three metres and includes a miniature kitchen and storage room and a bedroom. There is one mattress on the floor, and clothes are hanging all around on old bits of ropes. There is no food in the house apart from a small bucket of dried chiwawa leaves (similar to spinach).
"We have nothing but I cannot go back to poaching," Edwin stresses. "I don't want to kill more animals. There are so many people doing it but if we had a choice we would never do this. I never want to go back to prison, I could have died."
Under Zambian law, it is forbidden to hunt wild animals without a licence. However, those licences are very difficult to get as no one is allowed to own a gun, but ironically, to get a licence you must already own a gun. What's more licences are only given out for a period of about three months every year and they have quotas. So apart from hunting safari operators, no one else is actually able to hunt, even for food.
Edwin feels terrible about having had to kill animals to help his family survive, but he had no other option. "We are near a national park so we cannot farm, and there are no jobs anywhere."
Yet after seeing and living in appalling conditions he had to face while in prison, he is now urging other people who are still poaching to find other alternatives. "I am trying to teach them because they don't know what is happening in prison."
While he was away, his wife has had to find peacework, but these are not reliable. Since he came home, he has struggled to find work. His youngest child is 10 and his oldest is 22, but they have nowhere to go and nothing to do.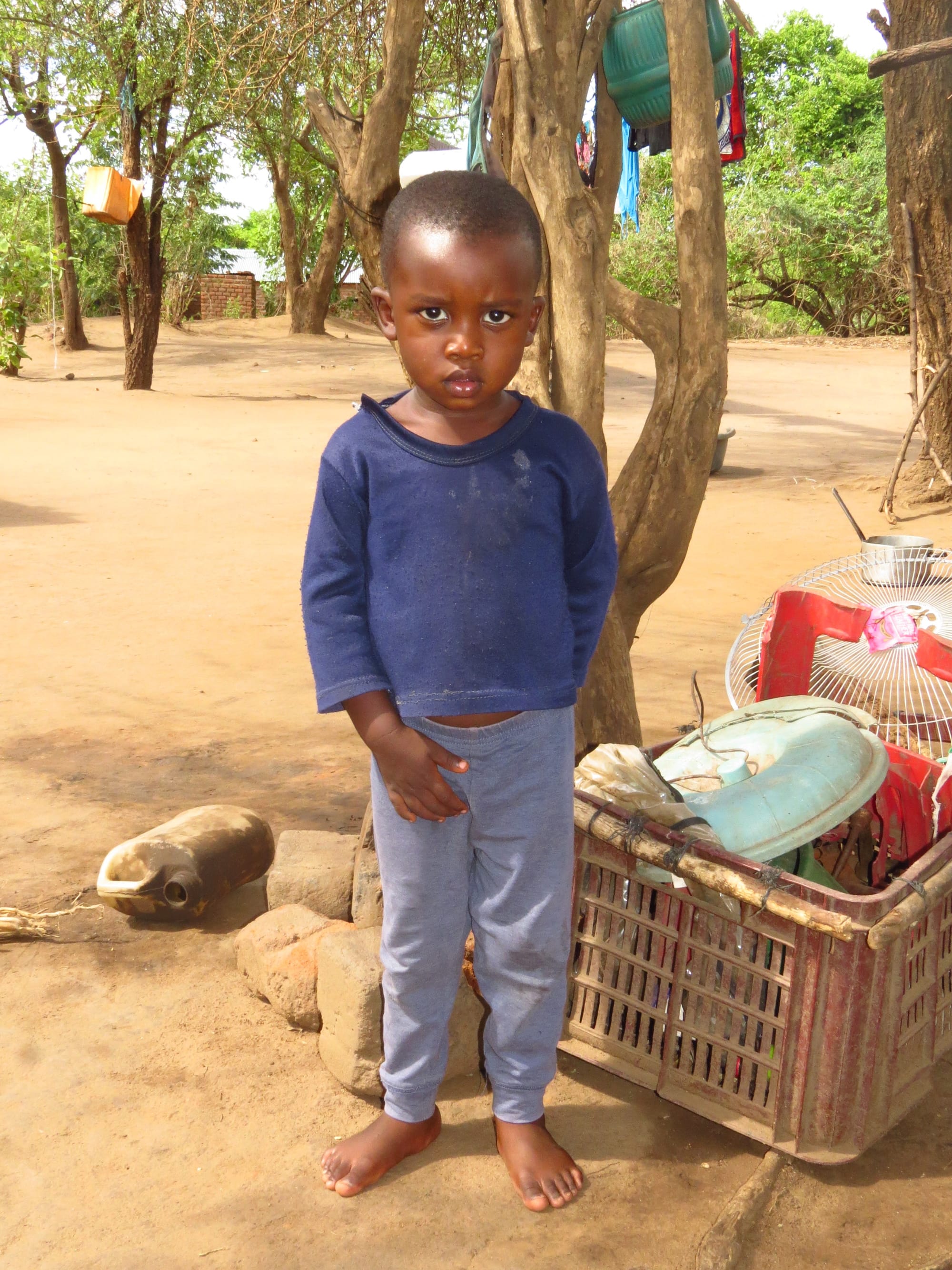 "I need to do something, please help me" Edwin beseeches me. He has turned to me to help him find one or more sponsors to help him start a business. "If I can have a capital to start a business, I can survive and help my family."
As he is getting older, Edwin wants to start a poultry business, where he could keep chicken in good conditions and use them to sell the eggs and meat. "I need enough for a building, feeds for six months so the business grows, tools and I have to buy the chickens." He also needs a licence from the council.
We make the calculations together and agree that for a 4 metres by 8 metres building, 100 chicken and feed, in total he would need around 20 000 Zambian Kwacha (USD 2000) to get properly started and launch his business.
I explain to him that I will be publishing this article and launch an appeal so that people from around the world may help him. His eyes are so full of hope and gratitude that my heart leaps in my throat.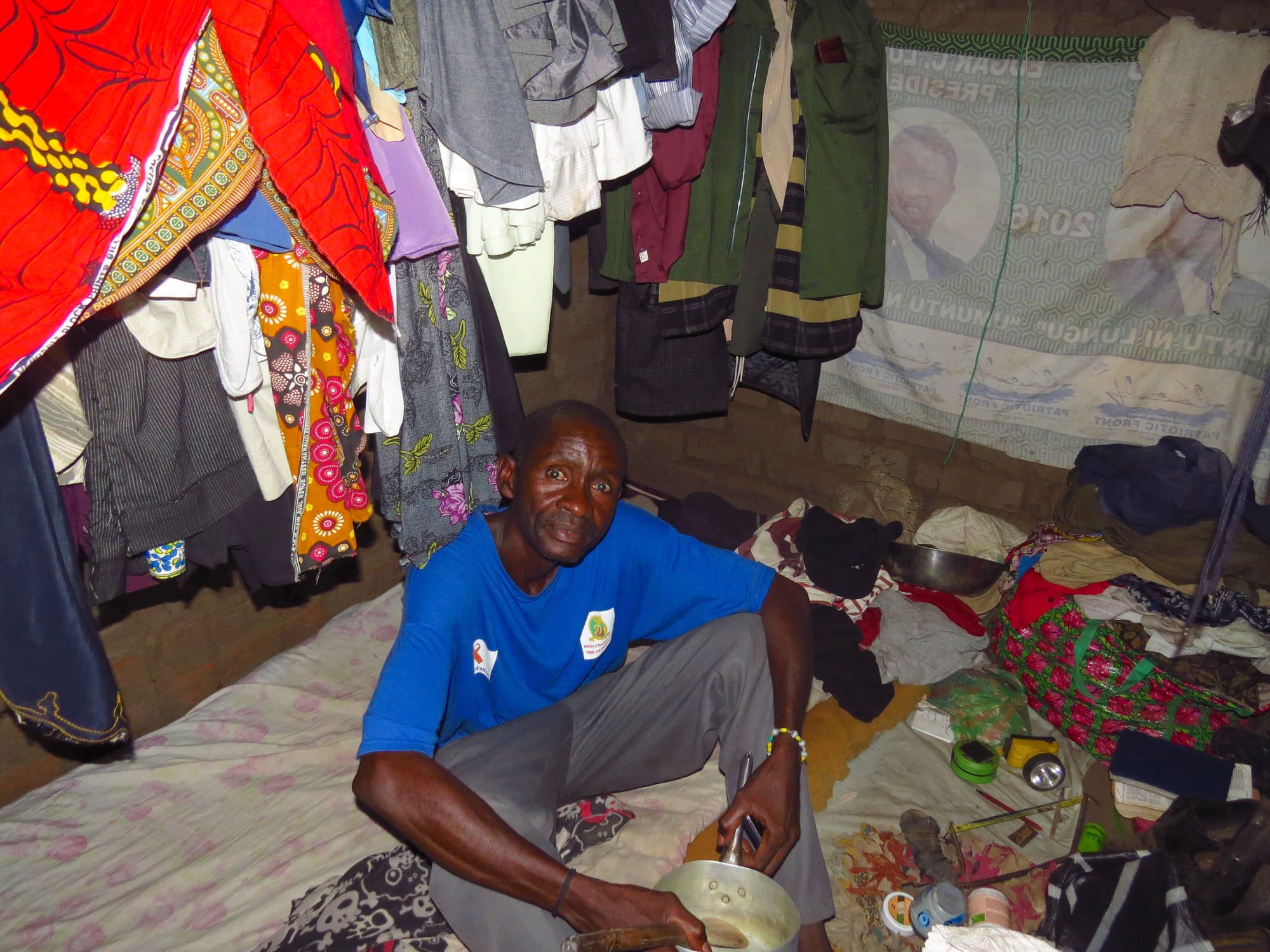 Edwin is faced with a dilemma. He doesn't want to poach again, and never wants to go back to jail. But what wouldn't you do if your wife and children are starving and you cannot find work anywhere?
He stands up to leave and he puts both his hands around mine and thank us again, before walking away. Edwin's story has touched me deeply. He is a good man, with a good heart, and, like so many people here, is struggling to survive.
***
Edwin does not have an email address or a bank account but he wishes to have me act as a mediator so that you can send donations easily via Paypal at mahinaperrot@gmail.com. Please write them under "donations Edwin". Edwin and his family will be getting 100% of your donations.
If you wish to let him know you have sent a donation, you can also call him or send him a text message on his phone: +260 963604529 / or +260 978851602
While any amount will help the family survive, we are hoping to reach the target of USD 2000 by December 31rst, so as to be able to give Edwin and his family a real Christmas gift and a real opportunity at living a better life!
Edwin would like to thank everyone in advance for their generosity. Should you ever come to Zambia, he would love to meet anyone who would have been able to help him.
---
Article written by Luangwa Wildlife Magazine editor-in-chief and wildlife journalist Mahina Mahina Allkemya Zulu. Pictures taken by Kelvin Zulu, Luangwa Wildlife Magazine photographer and expert safari guide. Contributions (articles and/or pictures) are welcome and can be sent to info@luangwawildlife.com. For advertising enquiries, email us at advertising@luangwawildlife.com.